When spooky season hits, horror fans come out of the woodwork to transform their homes, hobbies, and free time, dedicating all areas of their lives to horror films and scary movies. If you truly consider yourself a scary movie fan, you probably love to take on the challenge of horror movie trivia.
Whether you just enjoy to quiz yourself on your favorites from the genre or you're planning the ultimate Halloween party, these scary movie trivia questions can liven up a dull day, get your friends and family involved, and lead to loads of creepy, crawly fun.
So, without further ado, here are some of the best horror movie trivia questions, and their answers split up into different categories for your convenience.
Horror Movie Deaths
For some, death is not a fun topic to be quizzed on. However, horror movie fans know that death is part of the whole package.
If you truly know your horror films, you might be able to answer these specific questions concerning various deaths with scary movies trivia. The gruesome, the shocking, the expected, and everything in between, let's jump into our first set.
In this set, your question will describe a specific way someone died. You must answer with the correct corresponding movie.
Which movie featured someone being eaten by a large shark?
In what movie was an individual thrown down the stairs after being possessed by a demon?
What movie portrays someone being stabbed to with a knife in the shower?
Which horror film kills someone by forcing them to eat too much?
What film showcases death by strangulation with a clothesline in the shower?
In what movie does someone get hit in the face with an ax while listening to "Hip to Be Square"?
Which movie kills off their high-profile main character at the very beginning with a gruesome stabbing scene?
In which bloody film does someone die from an alien spawn exploding out of their chest?
What horror film depicts a character smashing their dirt bike into an artificial wall?
What scary movie shows a child dying by way of a sewer gutter?
Random Knowledge Horror Questions
Dedicated horror film fans tend to retain all kinds of interesting and somewhat random knowledge about the movies they adore oh-so-much. This set of questions is for anyone looking for a real challenge and boasts a true commitment to this genre of movies.
How many times does Count Orlock blink throughout the entirety of his appearance in Nosferatu?
Which horror film was the first-ever of its genre to be nominated for a Best Picture Oscar?
Who did Wes Craven originally want to play the lead role as Freddy Kruegar?
Which on screen adaptation fell flat, according to Stephen King?
How many years did it take to get Aliens made?
Which three horror films did serial killer Ed Gein inspire?
Which well-known horror film is recognized as one of the most profitable films of all time?
Unstated in the movie, what is the name of the demon that possesses Regan MacNeil in The Exorcist?
Which popular horror film was inspired by real events that took place in Gainesville, Florida in the early 90s?
How long did it take to film The Blair Witch Project?
What was almost the title of the Friday the 13th movies?
Which horror film actress slept in bloody clothes for three days to nail the look of a gory scene?
General Horror Film Questions
If you're looking for Halloween movie trivia or just a fun, general horror movie quiz, you've come to the right place. The following set of questions will assess your knowledge of horror films across the board, setting the mood for all of your scary activities.
We've created and compiled questions ranging from easy and obvious to obscure and difficult, so get your head in the game, dim the lights, and prepare yourself for the ultimate horror film quiz.
Which horror movie features a serial killer wearing a William Shatner mask?
What classic scary movie shows the main character writing a book with the only words being, "All work and no play makes Jack a dull boy" over and over again?
How many people involved with The Exorcist died during production?
What color is Freddy Kreuger's sweater?
How many individuals die at the hand of Jason in the first Friday the 13th movie?
What is the number one rule on Randy's list for surviving a horror movie in Scream?
What is the name of the classic Edvard Munch painting that inspired the mask worn in Scream?
Why can't Michael Myers be killed in Halloween: The Curse of Michael Myers?
What grabs Robbie Freeling through his bedroom window during Poltergeist?
In 28 Days Later, who is blamed for releasing the deadly virus?
What is the room number for the room that Dick Hallorann tells Danny to stay away from in The Shining?
What hobby does Norman enjoy in the Psycho?
Who speaks to Isaac in Children of the Corn?
What is odd about the videotape in The Ring?
Which character appears in all four of the Jaws movies?
How many Friday the 13th movies are there?
How many Michael Myers Halloween movies are there?
What is the name of the camp in Sleepaway Camp?
What real-life interviews inspired the relationship between Will Graham and Hannibal Lecter?
Who does Jay see first in It Follows?
Scary Movie Quotes
Some of the most gruesome, distasteful quotes come from horror films – and that's what makes them so fun to recite. When the moment calls for a captivating quote, you can count on a scary movie to give you just the right words.
Only the biggest fans of all things terrifying will be able to ace this quiz. Use it at your Halloween bash to set the mood, or distribute these quotes among party-goers to use throughout the night. Make sure everyone guesses which movie the quote is from and who said it!
Below is a list of horror film quotes. You must correctly identify the movie and give out bonus points for anyone who can also name the character who said it.
"Listen to them. Children of the night. What music they make."
"In space, no one can hear you scream."
"I see dead people."
"Whatever you do, don't fall asleep."
"You're gonna need a bigger boat."
"It's alive!"
"Do you want to play a game?"
"Do you like scary movies?"
"It rubs the lotion on its skin or else it gets the hose again."
"A boy's best friend is his mother."
"The power of Christ compels you."
"I'm your boyfriend now, Nancy!"
"Congratulations. You are still alive. Most people are so ungrateful to be alive. But not you. Not anymore."
"You know, it's Halloween… Everyone's entitled to one good scare, eh?"
"Don't blame the movies. The movies don't create psychos, movies make psychos more creative."
"It's not the house that's haunted… It's your son."
"This is no dream! This is really happening!"
"I think people should always try to take the bad things that happen to them in their lives, and turn them into something good. Don't you?"
"Be afraid. Be very afraid."
"Oh? You got a letter? I got ran over, Helen gets her hair chopped off, and Julie gets a body in her trunk and you get a letter? That's balanced."
Spice Up the Night with Horror Film Trivia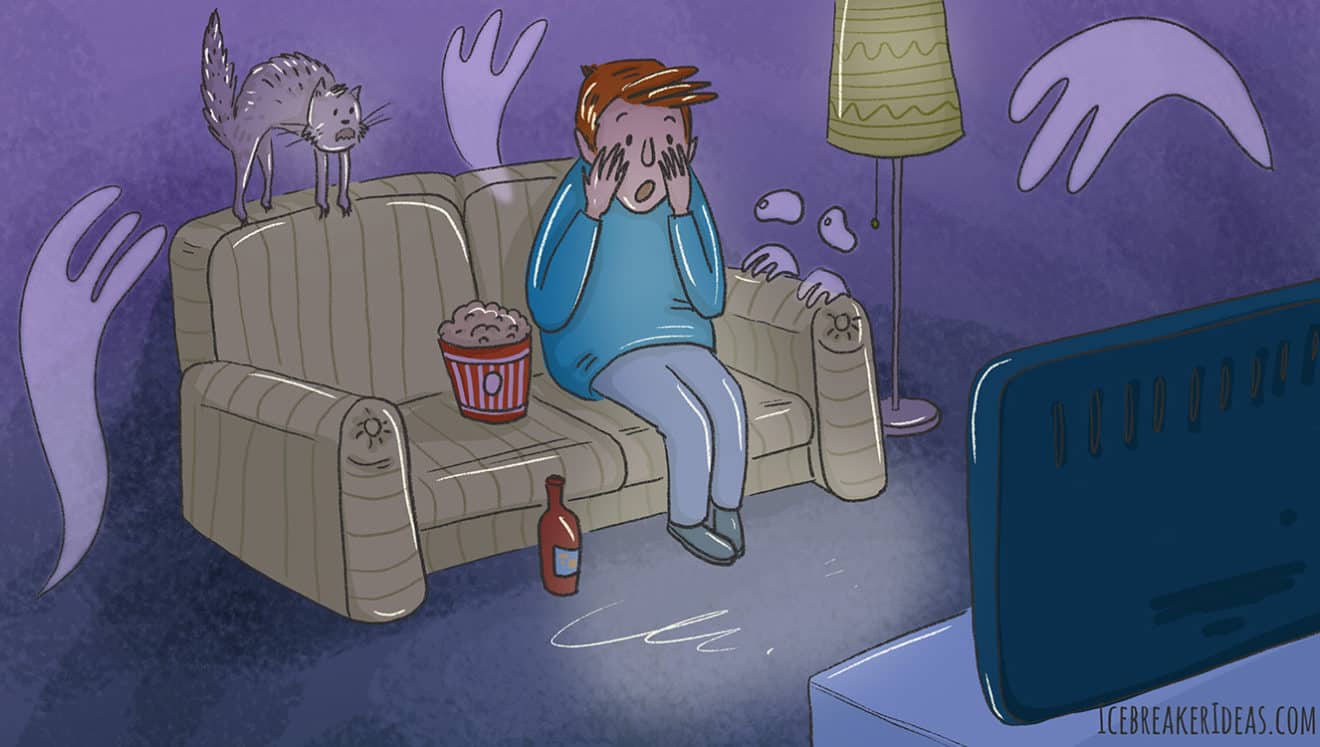 Any scary movie night is for sure going to include at least one thing: a great, terrifying movie that's sure to leave you sleeping with the lights on. But, if you really want to throw a spectacular movie night to knock everyone's socks off, add a few rounds of horror film trivia.
You and your friends can have quite the creepy time just by pulling out these sets of questions and seeing who knows the most across this genre. Have fun – winner gets to pick the next movie!
Susan majored in English with a double minor in Humanities and Business at Arizona State University and earned a Master's degree in Educational Administration from Liberty University. She taught grades four through twelve in both public and private schools. Subjects included English, U.S. and world history and geography, math, earth and physical science, Bible, information technologies, and creative writing.
Susan has been freelance writing for over ten years, during which time she has written and edited books, newspaper articles, biographies, book reviews, guidelines, neighborhood descriptions for realtors, Power Point presentations, resumes, and numerous other projects.