IcebreakerIdeas.com was created to combine best group games, icebreakers, trivia questions and team building activities in one place
If you have any suggestions or ideas, please contact us via this form.
Our Authors:
Susan Box Mann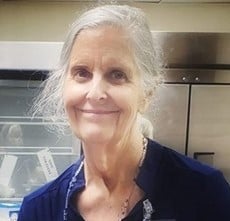 Susan Box Mann was born in Pasadena, California. Her father was a newspaper publisher in Northern Arizona and Susan learned to love writing from her experiences working with him as a teenager. She majored in English with a double minor in Humanities and Business at Arizona State University and earned a Master's degree in Educational Administration from Liberty University. She taught grades four through twelve in both public and private schools. Subjects included English, U.S. and world history and geography, math, earth and physical science, Bible, information technologies, and creative writing. Additionally, she worked for the Progressive Insurance Corporation in Quality Control and created underwriting guidelines for all insurance products.
Recently, Susan spent three years living in Texas and homeschooling two of her thirteen grandchildren. She is pictured here in her last official job as a cook for a Texas home school co-operative where she was able to fulfill a life-long desire to cook her original recipes for the enjoyment of others.
Susan has been freelance writing for over ten years, during which time she has written and edited books, newspaper articles, biographies, book reviews, guidelines, neighborhood descriptions for realtors, Power Point presentations, resumes, and numerous other projects. She hopes to publish her first novel, a mystery, in the spring of 2021. Between writing projects, she enjoys vegetable and flower gardening on five-plus acres in the North Carolina Piedmont.