Halloween is a perfect time for a party. The weather is getting cooler, but is still warm enough to have fun outside. This means you can use your outdoor areas if your group is large. We have an excellent collection of Halloween party ideas for every age. Check out our Halloween party food ideas, our unique decorations, and ideas for kid, teen, and adult parties.
Challange your guests with Halloween Trivia
Halloween Party Ideas for Kids
Kids love Halloween – the dressing up and the candy especially. So, your party plans should center upon these two favorites. Provide small bags for kids to take home their toys, candy, and prizes or have a craft time so they can make their own. Use brown paper lunch bags, markers, and Halloween decals from the dollar store. For a fun Halloween party time for kids, try the following:
Halloween Party Games for Kids
Pop Goes the Pumpkin
Draw a large circle on a piece of cardboard and attach blown up orange balloons with tape or pins stuck through the rubber end where one blows up the balloon. Add a green stem at the top of the "pumpkin." Blindfold each child and let them attempt to pop the balloons with a large pin or push pin. For additional fun, place a small wrapped candy inside each balloon.
Halloween Piñata
Remembering that Halloween includes costumes makes it possible to use virtually any piñata for your party. Additionally, a local party store probably has a Halloween themed piñata available. Fill with individually wrapped candies and provide a baseball bat or broomstick for the kids to hit and break the piñata.
Scary Spider Race
Perfect for very young children, this game only requires a straw for each child and a few rubber spiders. Use a large piece of white paper and draw a finish line, or mark one on a table top with masking tape. Kids move their spider by blowing on it through a straw. Play in pairs or, for a larger group, create teams. If you are playing in teams, keep track of who wins the race each time giving one point. The team with the most points wins.
19 Funny Halloween Games for Kids (Play Indoor or Outside)
Halloween Decorations for Kids' Parties
Stay away from the really scary stuff for very young children. Witches and ghost are okay. Make simple table decorations with white tissue ghosts, using string to tie around the necks. Use a marker for eyes and a mouth. Mini pumpkins are fun and can be used for a Halloween bowling game where kids knock down weighted pop bottles, painted white with black marker faces to resemble ghosts.
Use pumpkins for decorations and then have the children make Jack-O-Lanterns, using colored markers instead of sharp implements for the faces. Provide yarn for "hair" if you wish.
Food can serve as one of your decorations. Cupcakes provide individual, easy-to-eat and serve sweets. Frost with white icing and then sprinkle with orange sugar, add a few candy corns, or top with a gummy worm. Make a fun punch and float ice cubes with blueberries for "eyes." Make a mild salsa dip for chips or provide marinara sauce for cheese sticks with a spider web design made from sour cream or string cheese stripes.
Halloween Party Ideas for Teenagers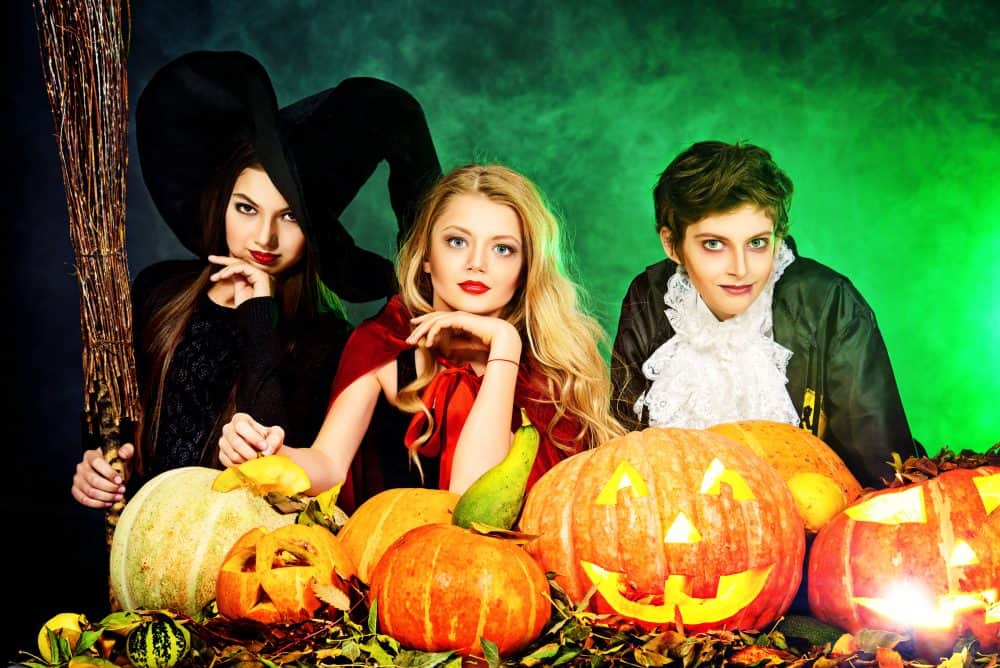 Teenagers need to be kept entertained. Your games should be active to make sure you keep everyone busy until the party ends. Encourage the teens to dress in scary costumes or pick a theme, such as zombies or vampires. You can have your treats and decorations carry out your chosen theme.
Halloween Party Games for Teens
Halloween Fear Factor
Fill three or four bowls with gross feeling foods – peeled grapes (eyeballs), cooked pasta (guts), steamed whole cauliflower (brain), a peeled tomato (heart), canned peaches (liver), pudding with raisins (vomit). Blindfold each teen and tell them what they will be touching. Then have them guess the actual food.
Bobbing for Apples
This traditional game is great for teens. Fill a washtub with water and add apples. Let your teens attempt to pick up the apples with their mouths without using their hands. Have plenty of towels available for drying off.
Murder Mystery Game
With a bit of thought and planning, you can create a fun game that will keep your teens busy for at least an hour. Create a character list with the same number of teens who will be at the party. Make a few characters not vitally important to the story for any no-shows. Start with a story introducing the time, place, and each character, assigning each guest a part. Only you will know who did it, with what weapon, and why. You should have at least one weapon, character, reason, and body location clue for each person playing to have plenty of possibilities. Hide clues around the house and let the teens figure out the solution to the murder.
Pumpkin Carving Contest
Provide plenty of pumpkins and sharp utensils for carving. If you wish, you can put your teens in pairs or teams. Let carvers use markers to create their faces before beginning to carve. If you wish, you can clean and roast the seeds for a party treat.
Roasted Pumpkin Seeds
Preheat oven to 300 degrees F (150 degrees C).
Wash the seeds thoroughly. Toss seeds in a bowl with the melted butter and salt. You may wish to add garlic powder and/or paprika. For a sweet treat, use sugar and cinnamon with the butter. Spread the washed seeds in a single layer on a baking sheet and bake for about 45 minutes, stirring a few times, until they are golden brown. You may need more than one baking sheet if you have a great many seeds.
Halloween Decorations for a Teen Party
For a fun, whole party décor, make your party room or garage into a haunted house. Decide where your guests will enter and exit and clearly mark them. Use gauze or strips of sheet or black crepe paper to walk through. Make sure the exit and entrance are well lighted, although the rest of the haunted houses should be dim. Cover the walls with cardboard for attaching fake spiders and other creepy crawlers. Additionally, you can have someone stick their arm or hand out of holes in the cardboard to scare your participants. Play spooky music or a spooky sound track. You might wish to include one or more of the following:
Gravestones
A sheet ghost
Halloween masks
Decapitated dolls or stuffed animals
Rubber bats and spiders
Your Halloween treats for teens should be gross or shocking. Try these creepy ideas:
Halloween Deviled Eggs. Color the yolk filling with green food die and top with a halved green olive.
Bloody Cup Cakes. Top vanilla frosted cup cakes with streaks of red gel icing.
Severed Fingers. Score hot dogs to look like knuckled fingers. Attach a piece of onion for the fingernail to one end. Sprinkle with catsup to resemble blood and provide buns and condiments.
Killer Cake. For an easy, gross cake, make your favorite Bundt cake and stick a fashion doll from the dollar store in the center. Use gel to decorate the doll and cake with fake blood.
Adult Halloween Party Ideas
Spike the punch, create adult size snacks, and prepare for an awesome Halloween party for adults you know. Consider a theme for your adult party and build your food, games, and party decorations around it.
Halloween Party Games for Adults
Ghost Story. Start a scary story, perhaps in a graveyard or haunted mansion. Each guest adds a sentence or two until everyone has had at least one turn (or two if you group is small).
Candy Corn Relay Race. Have each adult attempt to move candy corn from one bucket to another with a spoon held in their mouth. This crazy game can be played with teams if you wish. The first to move all the candy successfully wins the game.
Halloween Movie Marathon. Watch clips of famous scary movies, then have your guests write their own scary scene and act them out for the other guests. Provide props and some thrift store costumes. Add some fake blood and other Halloween makeup for a fun time.
Costume Contest. Tell your guests before the party that you will have a costume party and offer several prizes for:

The scariest
The funniest
The most original
The most colorful
Halloween Decorations for Adult Parties
Create a romantically spooky feeling with candles for lighting. Choose two primary colors; red and black are sophisticated and spooky colors, or go with the traditional orange and black. Build your food choices and table décor around a theme, such as one of the following:
Vampires
Dead bodies
Murder
Graveyard
Spooky Jack-o-Lanterns
Don't forget to set the stage on your patio, front porch, or front door decoration. Try Gothic organ music to create a spooky vibe. Make spider webs by folding black trash bags into a circle and cutting a web design. Cover windows with gauze to dim the interior if your party begins before dark.
Halloween Party Food Ideas
A fun and successful Halloween party needs food. We have a collection of ideas and a few recipes that take very little time and help you set the stage for a very creepy Halloween party.
Witch's Wands
Dip pretzel rods into white frosting and then roll in Halloween colored sprinkles. Set into a jar will filled with candy corn.
Mummies
Wrap hot dogs in strips of crescent dough. Leave a space for the "eyes" – dabs of catsup added before serving.
Caramel Apples
Wash apples and insert a short skewer into the top of each. Prepare a buttered baking sheet. Unwrap eleven ounces of caramels and place them in a microwave safe bowl for one minute. Stir and microwave for one more minute. Allow to cool a bit. Roll the apples into the caramel. If you wish, you may roll the apples in chopped nuts. Set on prepared baking sheet to cool and set. Makes five caramel apples.
Dead Man Fingers
Cut sting cheese sticks to round the ends. Add a slivered almond to the end to mimic a fingernail. Make cuts with a knife to make knuckles marks. Provide jarred marinara sauce for dipping.
Spider Webbed Dip
Make a "blood" dip with marinara sauce or salsa. Create a web on top with strings of sour cream or string cheese stripes. Add a few plastic spiders and serve with chips or "Dead Man Fingers" shown above.
Bones n' Blood
Cut breadstick dough into bone shapes and sprinkle with parmesan cheese. Bake according to recipe or package directions. Serve with spider web marinara dip.
Dirty Worms
Make individual cups of chocolate pudding with a few gummy worms buried in the pudding. Top with crumbled chocolate cookies on top. Add two gummy worms for decoration.
Blood Splattered Cookies
A quick and simple sweet sure to create a Halloween treat to remember. Simply splatter thinned red icing (or used packaged gel icing) to create blood on homemade or store-bought sugar cookies.
Worm Sandwiches
Drop thinly sliced hot dogs into boiling water and cook until they curl. Drain and put in bar-b-cue sauce. Serve them on buttered buns.
A Few Quick Last-minute Halloween Food Ideas
Spider Web Brownies. Decorate homemade or store-bought brownies with white frosting.
Halloween Chek Mix. Add candy corn and other small Halloween candies to Chex mix.
Spider Web Cookies. Frost store bought cookies with orange icing and use white frosting for the web.
Halloween Punch Ideas
Give your favorite party punch a Halloween theme by using one of the following:
Float plastic fashion doll limbs
Freeze gummy worms in ice cubes
Fill rubber gloves with water, freeze them, and float the frozen hands in your punch
Every one of every age loves celebrating Halloween in the fall of each year. Choose the perfect decorations, games, and food for your Halloween get-together for kids, teens, and adults. Make your celebration one to remember with our Halloween party ideas!
Susan majored in English with a double minor in Humanities and Business at Arizona State University and earned a Master's degree in Educational Administration from Liberty University. She taught grades four through twelve in both public and private schools. Subjects included English, U.S. and world history and geography, math, earth and physical science, Bible, information technologies, and creative writing.
Susan has been freelance writing for over ten years, during which time she has written and edited books, newspaper articles, biographies, book reviews, guidelines, neighborhood descriptions for realtors, Power Point presentations, resumes, and numerous other projects.