TV is an excellent source of entertainment for all ages. Although preferences for genres vary, everyone has a favorite TV show. The medium can significantly impact society, and you may surprise yourself with your TV knowledge. This series of TV trivia questions will put that knowledge to the test and help you learn more about what shows your friends like to watch.
Easy TV Trivia Questions
Our first section will start with easy tv trivia questions. These questions are about the iconic series that nearly everyone knows well. Start testing your tv knowledge with this trivia and see if you are a TV superfan.
Where did the show "The Wire" take place?
What show involved Cylons as evil robots?
Family guy took place in which state?
Which American drama first reacted to 9/11?
Who was the youngest male winner of American Idol?
What sports game featured the first TV advertisement?
The American crime drama "Narcos" was filmed and set in which city?
Who won Jeopardy in 2004 and took home 2.5 million dollars?
What was the subject of the first-ever advertisement on TV?
What character was the President of the USA in "The West Wing"?
When did the children's show Sesame Street first started airing on PBS?
What famous 1968 Star Trek episode included a kiss between Captain Kirk and Uhura?
Which famous TV series featured a reference or picture of Superman in every episode?
What actor portrayed Chandler's father on Friends?
What series was the first television drama in American history?
What year featured the first broadcast of an American TV drama?
Samantha twitched her nose for magic practice in which TV drama?
What is the name of the monkey who belongs to Marcel in "Friends"?
What is the last name of the leading family characters in The Cosby Show?
Which TV series uses the song Second Time Around as their theme song?
In the first episodes of Friends, Monica and Rachel live in what apartment number?
Where did the Simpson family live?
Who composed the iconic music theme of ABC news?
What color costume did Jeannie's sister wear in "I Dream of Jeannie"?
What does Stewie Griffin Say?
What actress was never nude in any Sex and the City scenes?
What Sex in the City character has bright red hair?
What season of Breaking Bad featured a flustered pizza toss by Walter?
The name of the first soap opera that aired in 1956 on CBS is what?
What is the name of the character who lives in a pineapple under the sea?
Which TV show included the first inter-racial kissing scene on air?
What actor starred in Lizzie McGuire?
Jack Bauer killed how many people in 192 hours?
Who had a girlfriend named Gina in "Martin"?
What group consists of Blossom, Buttercup, and Bubbles?
TV Sitcom Trivia Questions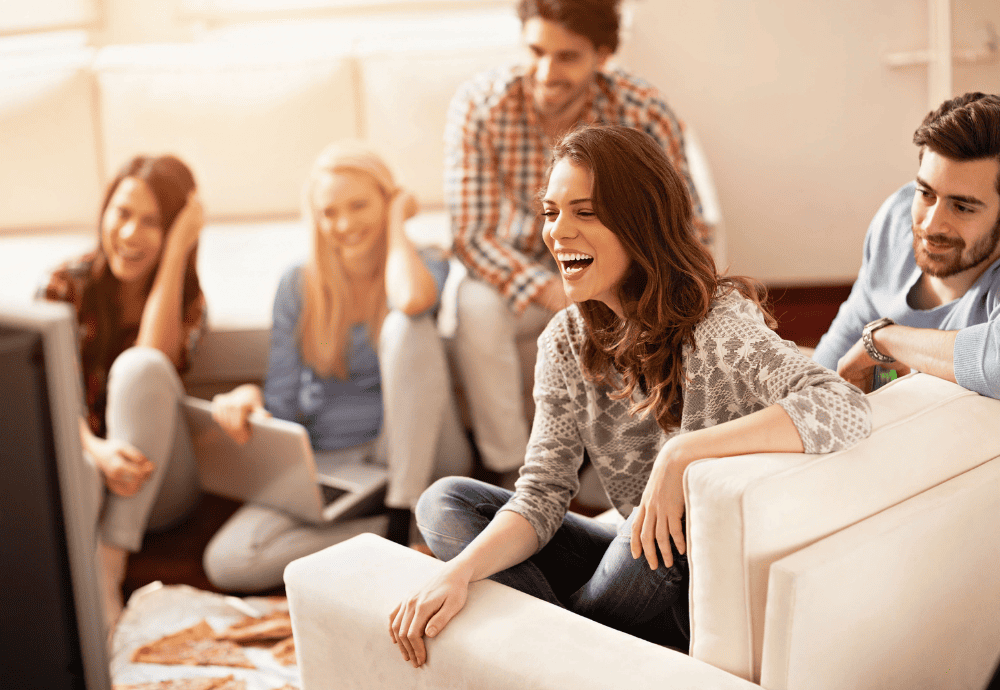 Sitcoms are certainly a guilty pleasure for many people. Short for situation comedy, this genre focused on a fixed set of characters to introduce different comedic situations in every episode. There are plenty of classic sitcoms that fans know almost by heart. Test your sitcom knowledge with the tv trivia questions below.
Which M*A*S*H character served during the Korean War?
Which actor who starred in Seinfeld also voice-acted in The Hunchback of Notre Dame as Hugo's voice?
Friends of Mine was the original title of what sitcom show?
Where did Laverne & Shirley live?
In My Two Dads, what were the dad's names?
Who won an Emmy for portraying a marriage counselor in the show Cheers?
How many episodes did Happy Days have?
What is the title of the final episode of M*A*S*H?
Dream On first aired on what cable channel?
Who was president during the setting of Laverne & Shirley?
Who was the primary star of My Mother The Car?
What record-breaking amount of Emmys did the Mary Tyler Moore show win?
What sitcom based itself on an older show called Love American Style?
Who else did Ted Cassidy play in The Addams Family?
What actress played Janet Treago, the bank secretary in The Beverly Hillbillies?
What character on Friends often yells, "We were on a break"?
In the Andy Griffith Show, Barney Fife keeps what in his shirt pocket?
What causes George Costanza's wife to die in Seinfeld?
Which character in The Office becomes a fugitive in the final season?
Who wore fake teeth when filming Full House?
What actress lied about her age to get a part in That '70s Show?
Steve Urkel from Family Matters made a guest appearance on what sitcom?
What actor received a nomination for an Emmy playing the same character on three different sitcoms?
In Boy Meets World, how many actors played Topanga's parents?
Where is Cheers set?
Which comic book featured the title character from Sabrina the Teenage Witch?
What nickname do the M*A*S*H characters give the tent quarters for the senior surgical staff members?
Who has selective mutism in The Big Bang Theory?
What character on Cheers is the resident con artist?
Who has a bed-wetting problem as a child in Everybody Loves Raymond?
Challenging TV Show Trivia
These next trivia questions are slightly more complicated. Superfans of TV should have no problem coming up with the right answers. Discover which one of your friends knows their stuff when it comes to this popular form of entertainment.
Bill Murray appeared as the first guest of what late-night talk show in 1982?
What actor plays Marty Byrde in Ozark, the drama series?
Princeton Plainsboro Teaching hospital is the set of which successful medical drama?
What is the name of Michael Fox's character in Family Ties?
The Connor family of the television show Roseanne lives in what state?
What science fiction series won acclaim for an episode titled "San Junipero"?
Who played The Penguin in the original Batman TV series?
What TV show led to the spinoff, Mork and Mindy?
What 90s sitcom usually obscured Earl Hindman's face with a fence?
Who began hosting the Tonight Show in 1962?
What actor in The Big Bang Theory has a real-life neuroscience Ph.D.?
What is the name of the stock sound used for men screaming in many TV shows?
What long-running American TV series featured a homicide detective played by Peter Falk?
What class of planet is earth in the Star Trek universe?
Which Beatle narrated the first two seasons of Thomas the Tank Engine?
What popular boy band includes singers who all auditioned for The X Factor as soloists?
Who was the youngest person to ever host Saturday Night Live?
Who began hosting The Price is Right after Bob Barker's retirement?
What parting catchphrase decorates the tombstone of voice actor Mel Blanc?
Who hosted No Reservations, an American travel and food show?
Reginald VelJohnson's character in Die Hard had what occupation?
What actor plays Frank Reynolds in It's Always Sunny in Philadelphia?
Which Star Trek: Next Generation actor hosted Reading Rainbow?
What are adult fans of the My Little Pony tv series called?
Where did the main characters of the Wizard of Oz go to find the Wizard?
What is the name of the coffee shop where the character in Friends hang out?
Who starred in Magnum P.I., a popular 80s crime drama?
Where does Oscar the Grouch from the muppets live?
What is the dog's name in The Jetsons cartoon?
Who played Miley Stewart on Disney show Hannah Montana?
What former model founded the reality show America's Next Top Model?
What animated sci-fi sitcom documents the misadventures of a scientist and his grandson?
How many castaways were there on the show Gilligan's Island?
Who is the lead actress of the thriller series The Blacklist?
What year did Star Trek: The Next Generation initially debut?
Susan majored in English with a double minor in Humanities and Business at Arizona State University and earned a Master's degree in Educational Administration from Liberty University. She taught grades four through twelve in both public and private schools. Subjects included English, U.S. and world history and geography, math, earth and physical science, Bible, information technologies, and creative writing.
Susan has been freelance writing for over ten years, during which time she has written and edited books, newspaper articles, biographies, book reviews, guidelines, neighborhood descriptions for realtors, Power Point presentations, resumes, and numerous other projects.