Retirement is a milestone in one's life. After years of working, it is time to either relax or move on to new adventures. Celebrating a friend, loved one, or co-worker retiring is thoughtful and fun. Accomplishments are remembered, contributions recalled, and career highlights recollected. You may be having a family get-together or celebrating at the office with co-workers. In this article we will help you choose a theme, gather decorations, plan your party games and food, and give the retiree the perfect gift. Our article provides ideas for everything you need for a successful and fun retirement party.

Steps for planning a retirement party include:
Picking a theme
Choosing a date, time, and place
Creating a guest list and sending out invitations
Ask the retiree who they would like at the party. Consider former co-workers, family, and friends.
Make sure your invitations reflect your chosen theme. If special clothes can or should be worn, indicate this. Let the guests know if they can bring someone and if an individual or group gift is expected. You might also wish to state that the guest should prepare a short message for the retiree toast and tribute time.
Include a R.S.V.P. request so you will know how many guests to plan for.
Planning entertainment and food
Retirement Party Decoration Ideas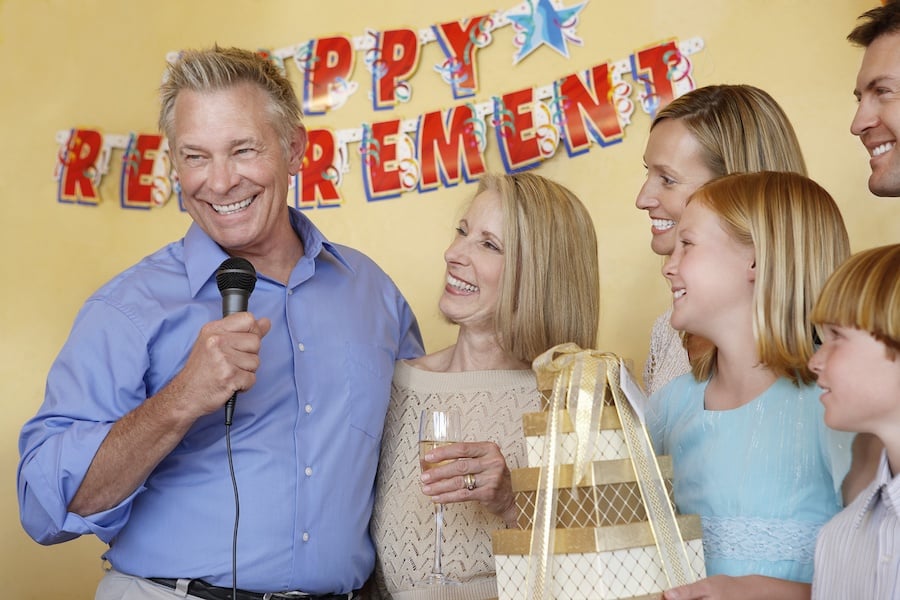 The first thing you should do is pick a theme for your retirement party and build all your other retirement party ideas around that theme. Your theme should be specific to the interests and/or life of the retiree, focusing on future plans or a new career path. Some good themes to choose from and build your retirement party decoration ideas around include:
Year They Were Hired
For laughter and fun, this theme is sure to please. Choose decoration colors based upon the year they were hired. Anyone for olive green and bright orange? Or what about neon colors? Play music from the era and have guests dress accordingly if desired. Show pictures of the early years of the retiree's career, if available.
Career They Chose
Sometimes the career choice of the retiree presents a perfect theme. For example, an airline pilot might love decorations related to planes and the sky. Think small bags of snacks and sky-blue plates and napkins. A decorated cake with sky-blue frosting and an airplane in the clouds can be your centerpiece.
Their Future Plans
If the retiree has shared their future plans, you can use that knowledge for a clever theme. Traveling or relocating to a new location are two examples of future plans around which you can build a clever theme. You can use the party as a farewell celebration and choose a gift that fits – a new suitcase, for example.
Their Favorite Hobby or Interest
Create a personalized theme by concentrating on what the retiree loves to do. Fishing, a sport, or favorite hobby all provide creative ways to celebrate and decorate for your retirement party. Choose a gift the retiree can use in pursuit of their favorite pastime.
Retirement Party Games
The retirement party is not just for the retiree; you want everyone to have fun. The key is adding some retirement party games to pass the time and enliven the party. Choose one or more of the following activities depending on the size and makeup of the group and the time you have for the party.
Personal Trivia
Play this game with two equal teams to get everyone involved. Each time a team member gets an answer wrong, the retiree provides the correct answer. Prior to the party, collect some facts about the retiree from friends, co-workers, and family, and write each on a notecard. Players draw a notecard and attempt to answer the question. Find answers to such questions as:
How long the retiree has worked for the company
Positions held within the company
Names of friends and co-workers
Favorite place to eat lunch
First computer or other piece of office equipment
Interesting and funny career highlights
Hobbies and pastimes
Trips and vacations
Career milestones
Number of children/grandchildren
This Is Your Life
Although it takes a bit of preparation, this game is a fun way to pass some of the retirement party time. Create a slide show or PowerPoint presentation of the retiree's career and personal life. Ask co-workers, friends, and family remembers to provide their favorites complete with suggested captions. Turn the presentation into a game by having party attendees create funny captions and then re-show the presentation and read some of the funny captions. Give small prizes for the captions that elicit the most laughs.
Word Search
You can make your own word search puzzle for your party goers to complete by using a program found on the Internet. Turn it into a game by seeing who can find the most words within a certain time frame. Offer a small prize for to the person who finishes the puzzle in the shortest amount of time.
Who, What, When Game
Collect pictures from guests and family before the party of the retiree's life, from birth to the present. Post the pictures, placing a number on each, and then use the pictures for one or more of the following games:
Have your guests guess the order of the pictures, listing the numbers on a provided piece of paper.
Let guests write funny captions for each picture and then share them with the group.
Guess the age of the retiree in each picture.
Offer a small prize to the winner – the one guessing the correct order, the funniest caption(s), and the most correct age guesses.
Tribute Time
After you play one or more of the games shown above, give your guests an opportunity to offer a toast or a tribute to the retiree. Encourage the sharing of memories, recollections of fun times, and comments of appreciation. The retiree will appreciate knowing others care and will remember them.
Retirement Party Food Ideas
One of the best parts of a retirement party is the food. Any celebration that lasts longer than an hour requires refreshments. Begin an evening celebration with snacks, finger-foods, or canapes. Play games after the meal. Then have the guests offer toasts and tributes. End the evening with the cutting of the cake for dessert.
Consider serving the retiree their favorite food. When planning a menu for your retirement party, the first things to consider are:
The Number of Guests
If you have a large group, consider finger foods or a buffet. A smaller group might enjoy a sit-down dinner.
The Time and Place
Decide if you want a large, heavy meal, or something lighter based upon the time of day and the weather. A barbeque or outdoor picnic is not suitable for a winter day, and it is best not to eat an extremely heavy meal late in the evening.
The Theme of Your Party
Pick foods that match your theme. For example, if the retiree is moving to a foreign country and you have built your theme around this, choose food from that country.
You might wish to cater the event if expense is not an issue, especially for a sit-down dinner. The caterer often provides full service, which means no serving, setting up, or cleaning dishes after the party. This allows the host or hostess to enjoy the party without having to attend to the guests.
Another option that takes very little expense and work is a potluck, a good idea for an office party held during work hours. Soup and sandwiches ordered from a nearby restaurant is also an option if you wish to have a lighter meal at lunch time.
Note: Plan to have something the retiree likes. Also, consider food allergies, dietary restrictions, and the need to provide vegetarian choices.
Retirement Party Gift Ideas
When considering a gift for the retiree, you have many choices. You want to choose something based on what is important to the individual. Purchasing something able to evoke a memory, create excitement for their future, or help them achieve a goal is both meaningful and thoughtful. You can opt for a gag gift, but make sure the retiree's personality is one that will enjoy and appreciate such humorous fun. We have included many gift ideas, listed as Traditional, Popular and Personalized, and Humorous. We also have a list of retirement gifts for men and one for women. Whatever gift you choose, make sure you consider the personality, interests, and desires of the retiree.
Traditional Retirement Gifts
Traditionally a watch, plaque, or other item engraved with the number of years of service was the expected retirement gift, but is seldom the retirement gift chosen now. However, it may be the perfect gift for some individuals. Whatever gift you choose must fit the personality and interest of the retiree. If the individual tends to be conservative, a contribution to a charity or organization they support might be a good idea. Also, a sentimental and nostalgic scrapbook of co-worker pictures, with career highlights, memorable moments, and remembered achievements fits some more traditional individuals.
You may wish to give a gift related to the traditional watch.
Since most people use their cellphone as a watch, consider a new cell phone.
You could also purchase a novelty clock reflecting the personality or interest of the retiree.
Consider a silver tray engraved with a message, the retiree's name, and the date of their retirement.
Popular and Personalized Retirement Gifts
The most popular gifts are those which reflect the interests of the retiree. Now there will be time to spend on hobbies, so find a gift that fits the individual's favorite pastime. A popular retirement gift might be:
Equipment for pursuing a sport, such as golf clubs, a fishing pole, or a tennis racket.
Cooking, language, or some type of other lesson.
A gift certificate to a craft or home improvement store
A season pass to a theatre or other event venue
Use the Internet to order a personalized gift for the retiree. Use Shutterfly or a similar site to create a custom memory book with pictures of the retiree's co-worker and some personalized messages. Some of the items available from on-line companies include an engraved leather journal, garden tote, and backpack.
Humorous Retirement Gifts
Not everyone will enjoy receiving a humorous retirement gift. You might want to start with a gift basket of gag gifts and then bring out another, more appropriate gift after everyone has a good laugh. Consider including in your gag gift basket one or more of the following:
A company t-shirt, coffee cup, or pen
Magnifying glasses
A novelty piggybank
Medicine for constipation
Adult diapers
A pocket memo or date book
Retirement Gifts for Women
Again, the best gift is one designed specifically for the person retiring. Since retirement gifts are highly personal, gender is a consideration. Retirement gifts for women might include:
A fine piece of jewelry or a charm bracelet reminding her of career accomplishments
Clothing for her favorite hobby
Any special item for how she will be spending her retirement – a new suitcase for traveling, gardening tools and accessories, a gym or yoga club membership.
Other ideas are:
Vibrating foot massager
High-end sunglasses
Bath and body gift set
Gift certificate to their favorite hair salon or spa
Retirement Gifts for Men
If travel is in their future, consider one of the following:
Luggage or back pack
Binoculars or camera
Monogramed leather passport holder
Guidebooks for their destination(s)
Other appropriate gifts include:
Gym membership with a year's fees paid
A special, once-in-a-lifetime experience, such as skydiving
Personalized leather wallet and money clip
Something to add to a collection – coins, stamps, art, etc.
Retirement Party Favor Ideas
Although the retirement party is primarily for the individual you are honoring, this special occasion should be marked by giving each guest a party favor thanking them for their participation. The following list is not all inclusive, but provides some clever suggestions:
Bottle opener or stopper
Custom packaged chocolate bar or mint tin
Custom photo magnet
Custom playing cards
Personalized key chain
Retirement parties are meant to be fun-filled, enjoyable occasions. Your retirement party does not need to cost a tremendous amount of money to be successful. The key is picking the right theme and making the party special for the person retiring. Sharing memories and letting a person know they are appreciated and will be remembered provides the key to a memorable occasion. Have fun!
Susan majored in English with a double minor in Humanities and Business at Arizona State University and earned a Master's degree in Educational Administration from Liberty University. She taught grades four through twelve in both public and private schools. Subjects included English, U.S. and world history and geography, math, earth and physical science, Bible, information technologies, and creative writing.
Susan has been freelance writing for over ten years, during which time she has written and edited books, newspaper articles, biographies, book reviews, guidelines, neighborhood descriptions for realtors, Power Point presentations, resumes, and numerous other projects.