Sometimes the biggest challenge when it is time for vacation Bible school is choosing the theme. You want one that will appeal to everyone, is fresh and exciting, and doesn't take a tremendous amount of work. Our article provides just what you need to pick and use the perfect vacation Bible school theme. We have vacation Bible school ideas, activities, and games for every age group, preschoolers through adults. Read on to find the perfect vacation Bible school theme for this year.

Vacation Bible School Theme Ideas
When it comes to choosing a vacation Bible school theme, there are a number of options available. You can choose to build your lessons on an Old Testament or New Testament theme, a Bible character, a Christian character trait, or a secular favorite, such as a cartoon, movie, or other currently popular theme. We have suggested themes for all of these categories so you can choose one perfect for your congregation.
Old Testament Vacation Bible School Themes
God Created the World
Genesis 1:1 In the beginning, God created the heavens and the earth.
Present the seven days of creation using songs and activities for children and material on Christian evidences for adults.
Be Strong and Courageous
Joshua 1:9 Have I not commanded you? Be strong and courageous. Do not be frightened, and do not be dismayed, for the Lord your God is with you wherever you go.
An excellent theme to build confidence in God and help all ages navigate through the challenges of everyday life.
Living to Please God
Lessons about the Israelites, the purpose of their nation (to bring a Savior for the World), and God's reaction to the nation of Israel's disobedience and ours.
New Testament Vacation Bible School Themes
Jesus Is Risen
Matthew 28:6 NIV He is not here; he has risen, just as he said. Come and see the place where he lay.
A lesson not just for Easter, but for VBS to remind all ages of the promise of eternal life.
United in Christ
Galatians 3:26-28 So in Christ Jesus you are all children of God through faith, for all of you who were baptized into Christ have clothed yourselves with Christ. There is neither Jew nor Gentile, neither slave nor free, nor is there male and female, for you are all one in Christ Jesus.
In a society often divided into classes and social groups, and along ethnic and racial lines, this verse offers hope of peace and love for those in Christ.
Becoming a Living Sacrifice
Romans 12:1 Therefore, I urge you, brothers and sisters, in view of God's mercy, to offer your bodies as a living sacrifice, holy and pleasing to God—this is your true and proper worship.
A good way to emphasize putting others first and a life of service to the church, community, and family.
Bible Character Vacation Bible School Themes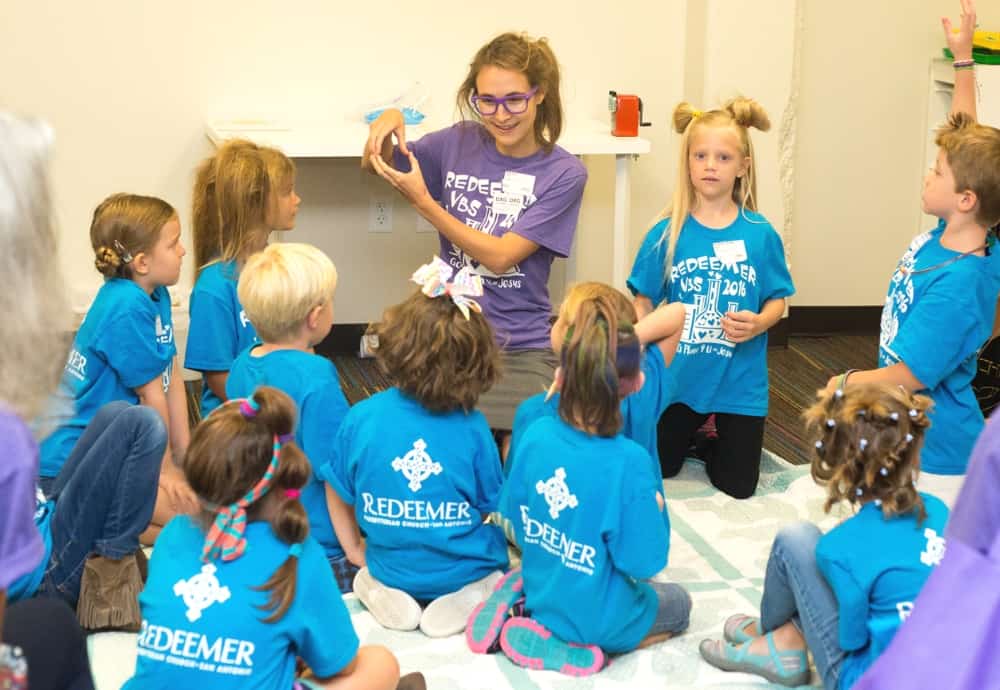 Jonah
Study the book of Jonah in depth for adults, with an emphasis on what happens when we do not obey God's commands. Kids love this story and never get tired of hearing about Jonah being swallowed by a big fish.
David
Teach about the shepherd boy who became king for younger grades, David's sin, the results, and God's forgiveness for adults.
Paul
Trace Paul's missionary journeys, conversion on the road to Damascus, persecution, and determination to preach the gospel.
Jesus
His life, miracles, parables, birth, death, and resurrection, all make excellent choices for VBS lessons.
Women of the Bible Vacation Bible School Themes
A theme based upon either the book of Ruth or Esther, the worthy woman of Proverbs, or the New Testament character of Lydia is perfect for the women attending your vacation Bible school.
Ruth
Ruth's faithfulness to Naomi and God provides a good basis for your VBS lessons.
The Worthy Woman of Proverbs 31
This topic suits women involved in VBS.
Esther
Esther prepares to be a princess. This topic works well for teenage girls, showing the preparation required when serving God and living a Christian life and Esther's obedience to Mordecai.
Lydia
This wealthy woman of the New Testament sold purple cloth and had a New Testament church meeting in her home.
Christian Character Trait Vacation Bible School Themes
The Fruit of the Spirit
Galatians 5:22-23 But the fruit of the Spirit is love, joy, peace, forbearance, kindness, goodness, faithfulness, gentleness and self-control. Against such things there is no law.
The Whole Armor of God
Ephesians 6:13-17 Wherefore take unto you the whole armor of God, that ye may be able to withstand in the evil day, and having done all, to stand. Stand therefore, having your loins girt about with truth, and having on the breastplate of righteousness; And your feet shod with the preparation of the gospel of peace; Above all, taking the shield of faith, wherewith ye shall be able to quench all the fiery darts of the wicked. And take the helmet of salvation, and the sword of the Spirit, which is the word of God.
Love One Another
John 13:34-35 A new command I give you: Love one another. As I have loved you, so you must love one another. By this everyone will know that you are my disciples, if you love one another.
Popular Vacation Bible School Themes
Star Wars
Talk about our battle against sin and evil. You can use Ephesians 6:11 ff. about the whole armor of God.
Superheroes
Emphasize the strength God gives us with Philippians 4:13 I can do all things through him who strengthens me.
Emojis
Everyone loves and uses emojis and you can lead your VBS groups in creating emojis to express Christian character traits, the fruits of the spirit, days of creation, etc.
Vacation Bible School Study Activities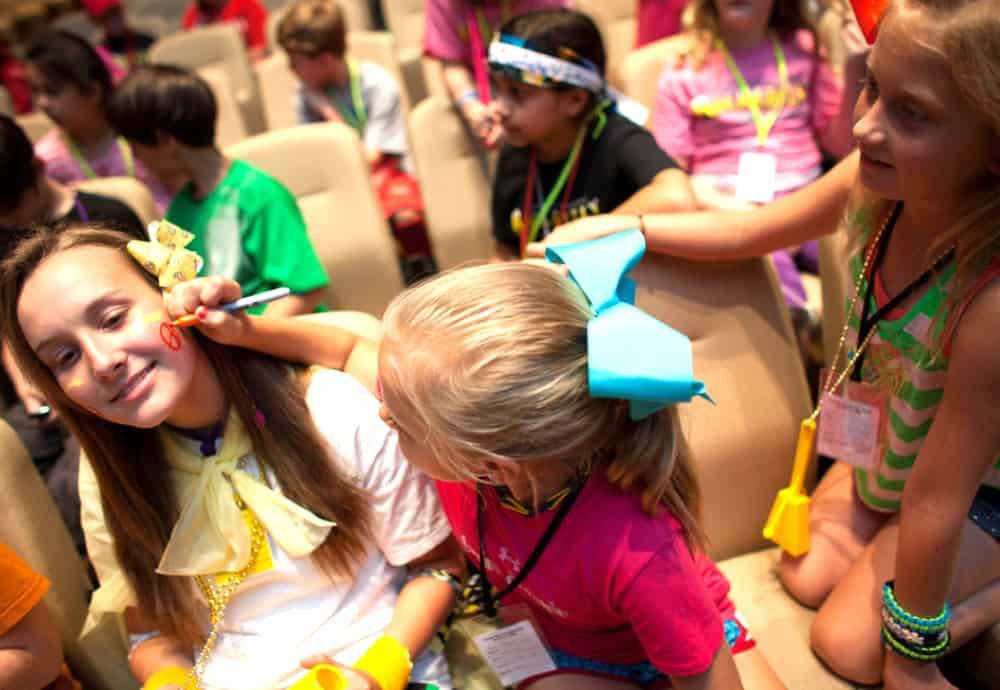 The most enjoyable parts of Vacation Bible School for many children are the activities and games. Those you choose should support your vacation Bible school theme, be easy to understand, and provide a take-home for the Bible students. Our selection of games includes two that work for any age and some for very young children.
Vacation Bible School Games
Trinity Tag
This fun game of "Biblical" tag is sure to please. One person is "It" just as in a regular game of tag. However, groups of three people – the trinity (Father, Son, and Holy Ghost) – hold hands and form a triangle to remain safe. A whistle is blown and the trinities must separate until the whistle is blown a second time. If someone is tagged when they are alone, they become "It."
Bible Buckets
Your youngest kids will love this game. Line up five buckets in a straight line with the name of one of the first five books of the Bible – Genesis, Exodus, Leviticus, Numbers, and Deuteronomy – on them. Each child takes a turn throwing balls into the buckets and calling out the Bible book name. If they make the first bucket, they win a small prize and try for the second bucket. Each time the child gets the ball in, they receive a prize. The farther the bucket is away from the child, the larger the prize. When they miss a bucket or get a ball into all of them, their turn is over. They will learn Bible book names while having fun.
All Together in Christ
Begin this fun game with two players sitting back to back, arms interlocked. The goal is to stand up together and then sit back down again. Next you add two more players and have the four stand up and then sit down. Keep adding pairs of players until all of them are interlocked. This game works well with the theme, "United in Christ."
Active Encouragement Game
Read aloud 1 Thessalonians 5:11 – "Therefore encourage one another and build each other up, just as in fact you are doing." Explain that teams are to encourage members as they play this game with words, yells, and cheers. You will need a Bible, paper plates, masking tape, cotton balls, and petroleum jelly for this team relay race. Divide your kids into groups of five to eight players. On one end of a long table, place a paper plate full of cotton balls and on the other end of the table place an empty paper plate for each team. Place a dab of petroleum jelly on each player's nose. The goal of the game is move all of the cotton balls from the full paper plate to the empty paper plate using only their noses. No hands are allowed. The team that succeeds first wins this game.
Fruit of the Spirit Musical Chairs
Arrange chairs in a large circle. Go around the circle assigning each kid a fruit – apple, orange, pear, or banana. When you yell the name of a fruit, all of the players assigned that name jump up and try to find a new chair. For example, if you call out "Apples!" the apples jump up and find a new seat. Each time, you remove a chair and one player is out. The last person remaining wins. This game works well anytime you have items to categorize, such as Books of the Bible – the Pentateuch, The Gospels, etc. – animals on the ark, or the seven days of creation.
Vacation Bible School Memory Verse Activities
Love One Another Memory Verse Activity
1 John 4:11 Dear friends, since God so loved us, we also ought to love one another.
Each child receives two pre-cut hearts with the middle of one cut out like a picture frame. Older children can write the verse themselves. For younger children, have a verse pre-printed for their use. Put the verse on the inside of the heart frame. On each side of the hearts, place two construction paper figures.
Armor of God Memory Verse Activity
Ephesians 6:13-17 Wherefore take unto you the whole armor of God, that ye may be able to withstand in the evil day, and having done all, to stand. Stand therefore, having your loins girt about with truth, and having on the breastplate of righteousness; And your feet shod with the preparation of the gospel of peace; Above all, taking the shield of faith, wherewith ye shall be able to quench all the fiery darts of the wicked. And take the helmet of salvation, and the sword of the Spirit, which is the word of God.
Cut pieces of light weight cardboard into shapes representing the pieces of the armor of God. Have children color along the pre-drawn lines and trace over the words representing salvation, peace, etc. For very young children, have a worksheet showing the armor the children can color.
Jigsaw Puzzle Memory Verse Activity
Write any memory verse on light weight cardboard. You can use a colorful background, either a solid color or a picture related to the verse. Cut the words out to form jigsaw puzzle pieces. You can have students either work on a puzzle by themselves or in groups. If you wish, make a game to see which group can complete the puzzle and learn the verse first. Older kids can make and cut the puzzles themselves.
Vacation Bible school serves as a ministry aimed at educating children about God. Most are based upon an overall theme. Vacation Bible School helps churches share the love of Christ with others and grows congregations spiritually and numerically. Some of the benefits of VBS include:
Children learn religious tenets through fun, age-appropriate activities.
Children lean life lessons that help them be good people and develop positive character traits.
Children get a "camp" experience without needing to stay overnight.
Children make new friends.
Adults grow in their knowledge of God and His plan for His people.
Adults get to serve others and share what they know about God and Jesus.
Although in the past they ran a full week of summer, now congregations serve their communities with fewer days and even offer evening sessions. Church staff and members volunteer to teach and provide games and activities. We have provided theme choices for your congregation to use with preschool through adults. Choose the perfect theme for your congregation and have fun!
Susan majored in English with a double minor in Humanities and Business at Arizona State University and earned a Master's degree in Educational Administration from Liberty University. She taught grades four through twelve in both public and private schools. Subjects included English, U.S. and world history and geography, math, earth and physical science, Bible, information technologies, and creative writing.
Susan has been freelance writing for over ten years, during which time she has written and edited books, newspaper articles, biographies, book reviews, guidelines, neighborhood descriptions for realtors, Power Point presentations, resumes, and numerous other projects.