Summertime and parents eagerly look for quality experiences for their children. Summer camp is a perfect way for children of every age to learn, stay active, and have fun. We have listed summer camp themes perfect for pre-schoolers, older children, and teens. Additionally, we have taken into consideration different types of camp experiences including day camps and family camping.
Summer Day Camp Themes
Many children attend day camps during the summer months. Some children attend for a week or longer and some just one or two days a week. This presents a challenge for summer day camp facilitators as they need to have themes that can serve their camper's needs for one day or many. Therefore, we have chosen camp themes with multiple components that make it possible for a camper to have a meaningful experience no matter how long they attend.
Animal Planet
Have each day of your camp highlight a particular animal. Build crafts, songs, games, and other activities around your chosen animal. For example, if you choose dogs:
Play "Doggy, Doggy, Where Is Your Bone?"
Serve hot dogs for lunch.
Sing "How Much Is That Doggy in the Window."
Watch a kid's movie about a dog in the afternoon.
A Bug's Life
Take your campers on a hike to find and identify bugs. Provide jars for collecting insects to be released later. Kids also love catching lightning bugs in jars in the evening. Provide pictures of butterflies and bugs for campers to colour.
Fairy Tales
Build each day of your summer day camp around a fairy tale. Read the story in the morning. Show a movie based upon the fairy tale in the afternoon. Provide a series of pictures that tell the story for children to colour and then put them in order. Build snacks and meals around the fairy tale, for example, peas at lunch for "The Princess and the Pea." Provide a selection of clothing for dressing up as fairy tale characters.
Knights and Princesses
Start the day with a ceremony crowning your princess and dubbing your knights. Each day hide a treasure and send your campers on a quest to find it. Play "Simon Says", however, play a variation where the King or Queen says. Have a "banquet" at lunch time with finger foods – vegetable sticks, fruit slices, berries, and chicken nuggets work well. Watch a movie such as How to Train Your Dragon or The Princess Bride.
Superheroes
Campers can have the fun of becoming a superhero with super powers. Provide squares of material to serve as capes and have your campers design and create a superhero costume. Some campers may wish to create a shield. Give older campers time to create a story of their origin after they choose a name and their power. Set up an obstacle course with fake rocks and logs so that campers can display their prowess. Play hide and seek with the counsellors playing villains and the superheroes searching for them.
---
Summer Camp Themes for Teens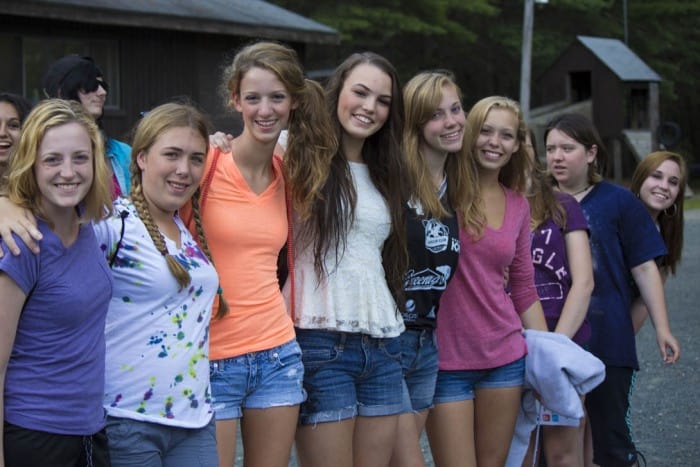 An Amazing Race
This active camping theme keeps teens engaged and involved. Begin by setting up ten challenges from different countries. Divide your campers into teams and have them "travel" from country to country participating in different challenges. The team that finishes first wins. Additionally, do the following:
Create "passports" for campers.
Add detours – the team has to choose between two tasks – and road blocks – only one person from each team performs the task.
Find craft projects representing the countries visited.
Video tape your race and show it to the campers at the end of the week.
Survivor
After dividing your camp into multiple teams or tribes, assign a colour to each tribe. Give each camper a head cloth in their tribe's colour. Create puzzles, challenges, and games for your tribes. Keep score for the completed activities, and each evening, have tribe members vote for which tribe should lose ten points. However, the tribe that lost the ten points the night before is immune. Additionally, do the following:
Hide an immunity "idol" – a stuffed animal works well – somewhere in the camp and each day provide clues to its location. When someone finds it, they can use it for their tribe.
Have a gross eating challenge with edible bugs. Chocolate covered ants work well for this.
At the end of the week, the tribe with the most points wins.
Fear Factor
With some modification, campers will enjoy a kid-friendly version of this fun camp theme. After dividing your campers into teams, have them compete by performing the following tasks:
Purchase chocolate covered crickets and ants and other edible bugs online.
Fill buckets with nasty feeling food such as corn starch mixed with water, cold pasta with olive oil, or oatmeal and bury plastic spiders, keys needed to unlock boxes, and other items in the goo. Either cover the buckets with black plastic with holes for the camper's hands or blindfold your campers before they dig in.
Have bowls of chocolate flavoured puffed cereal and challenge your campers to eat the "dog food."
Blindfold your camper and walk them to the "cliff." Have a log on the ground and tell them they must walk across it without falling into the "valley" below.
Blindfold a camper on each team. The other members of each team verbally guide the blindfolded campers through an obstacle course or "minefield."
Exploration
Create adventure with this fun camp theme. For each of the five camp days, do one of the following:
Have a hunt for a mythical animal. Counsellors create a creature or you can use a modified stuffed animal. Hide the creature and let the campers search for it. If they find it quickly, hide it again in a different location.
Pretend the camp is a planet in outer space. The counsellors can be the aliens and the campers are exploring the new planet and trying to identify unknown species of plants and animals.
When your campers get up in the morning, they find a new backward world. Everything is backwards: signs, clothes, meals (dessert is served first), etc. Additionally, the camp counsellors are all walking backwards.
Choose a country and have everything all day long related to that country. For example, if you choose Mexico, serve tacos for lunch, break a pinata for treats, and have siestas in the afternoon.
Let your campers have a water day. Swim, wade, play in puddles, and play games that involve water. Give each camper a squirt gun and have a water fight. If feasible, create a water slide on a hill with heavy black plastic and hoses.
---
Preschool Summer Camp Themes
Sticky, Wet, and Wild
A summer camp theme for exploration of the senses and tactile experiences, campers explore everything wet, sticky, and gooey. Play in mud, then in the water to clean off. Have honey and peanut butter sandwiches for lunch. In the afternoon, provide large sheets of paper for outdoor finger painting. Serve frozen fruit juice popsicles in the afternoon as a snack.
Pirates and Mermaids
Provide red bandanas and swim fins for campers and have a fun week pretending your campers are Pirates and mermaids. Divide your campers into teams for games and keep track of points all week long. Create a storyline involving pirate treasure and lost sailors and build your camp activities into your made-up adventure.
Zoo Animals
Contact a local zoo or an animal handler and make arrangements to have animals brought to camp.
Name small groups of campers after different animals and then refer to them by their animal name.
Decorate the dining hall like a jungle, forest, the sea, or a desert.
Have the counsellors and campers do impression of whatever animal is picked out of a hat.
Farm Time
Preschool campers love animals and farm time is a perfect summer camp theme for this age group. Start by dividing your campers into groups, each with the name of a different farm animal. Have counsellors help groups make a flag with their animal on it. Make sure you refer to the group by their animal name at meals, game time, and during any activities. Additionally, use one or more of the following activities:
Make animal masks out of paper plates for your campers to wear.
Use wiggly eyes and pipe cleaners to make barnyard animals.
Have a counsellor hunt where counsellors represent different farm animals. Have them wear a card on a string around their neck with the name of the animal they are playing. Each animal can be worth different points based upon how fast they are. For example, a chicken can run faster than a cow so would be worth more points.
If feasible, visit a local farm or vegetable market to pick or purchase veggies and fruits for lunch.
---
Family Summer Camp Themes
Whether you are looking for a theme for your privately owned family camp ground or simply want an unusual family vacation, our selection of family camp themes provides fun and excitement.
We Are Family
You don't need to leave home to have fun with your family. With an emphasis on teamwork, this family camp theme is guaranteed to provide a memorable time for all family members. Your family camp should include:
Creating a "family album" of pictures taken during the camp
Creating a family flag with a family coat of arms
Times around the campfire telling stories and singing songs
Hikes and picnics
Adventure in Your Home State
For this family camp theme, you can either stay at home or actually travel your state. This theme works well for a day or longer. Create a scrapbook about your state including the following activities and information:
Either take pictures or collect pictures of your state's animal, flower, tree, and bird
Cook regional food
Collect maps and postcards
Include business cards and brochures from around your state
Take pictures of your family having fun at various state landmarks
Take a "Cruise"
Set up different areas of the camp or your home as if it is a cruise ship.
If there is a pool, have plenty of pool toys, deck chairs, and set up a "bar" for cold drinks.
Set up a room as a movie theatre.
Use a bathroom or an area close to one as a space for massages, manicures, and pedicures.
Collect white elephant objects or visit the dollar store and set up a "gift shop." Campers can put "money" in an account to use during the "cruise."
Have a "snack bar" in the kitchen area.
Set up a "casino" with family games.
"Dock" for a day and leave your cruise ship for a visit to a fun local destination.
Make sure you take plenty of pictures of your family cruise.
A Disney Adventure
You do not need to leave your home to enjoy a Disney vacation. Families who love everything Disney can build camp time around Disney movies. Each day, choose a Disney movie and build one or more of the following activities around that film and its characters.
Pop some popcorn, grab cold sodas, and watch a Disney movie to set the theme for the day.
Do a craft based upon your chosen Disney movie. For example, make paper mache fish and watch Finding Nemo
Have a karaoke night with Disney songs.
Eat a meal based upon a Disney movie – spaghetti and meatballs for Lady and the Tramp, Chinese food for Mulan.
Creating a fun summer time camping experience begins with choosing an appropriate theme. Those we have listed in this article take relatively little time and investment, but provide hours of fun. Additionally, many of our ideas provide many days of activities. For example, if you choose a theme involving animals, the number of possibilities is almost endless with a new animal every day for weeks. So begin with the themes we have listed here, use your imagination, and you will create memories that will last a lifetime.