Families have played the popular game Scattergories for nearly thirty years. Originally published by Parker Brothers in 1988, when Parker Brothers was purchased by Hasbro a few years later the game was published internationally under their Milton Bradley brand. A 2-to-6-player game, the goal is to score points by listing unique names of objects within a set of categories with a given initial letter.
Scattergories offers 250 different categories, but if you play often, the categories do not last long and the words players choose become redundant. This article provides you with multiple lists so you, your family, and friends will have hours of fun play, whether you choose to purchase the game or enjoy the homemade version.
How to Play Scattergories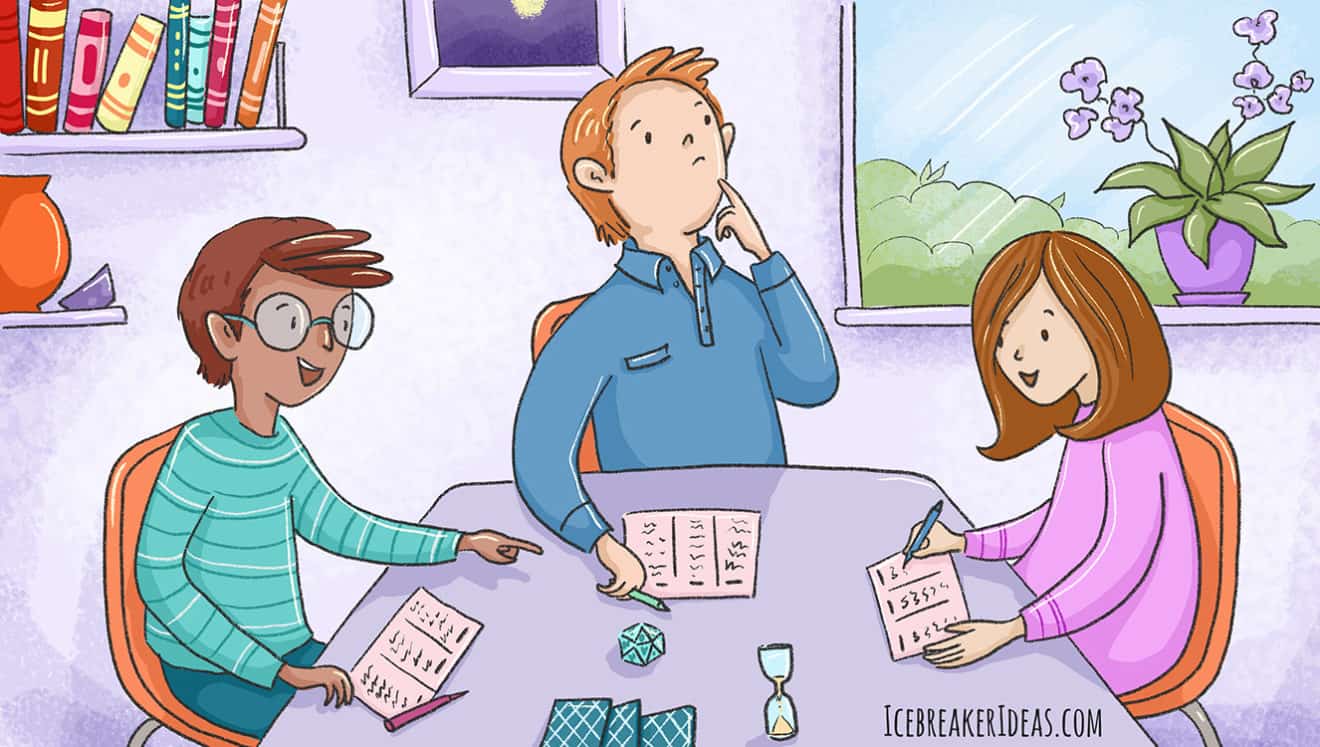 In a store purchased Scattergories game, players roll letter die and then think of words beginning with the letter shown. List cards show twelve categories and players list words attempting not to write down words duplicated by other players.
A homemade Scattergories game follows the same basic premise, except the game is played by choosing a category and then listing words applicable. The goal is to list words other players miss. One original word using the letter scores one point. If you wish, you can give two points for two words, such as "red rose."
To make the game a bit more interesting, have players list words beginning with all the letters in the title of the category. For example, if the category is fruit, players list words beginning with f, r, u, i, and t. Alternatively, you can create categories for each letter of the category word. For example:
F – Fresh Fruit
R – Round Fruit
U – Unusual Fruit
I – Imported Fruit
T – Tropical Fruit
Some players enjoy customizing their game by adding personal categories, such as names of family members, favorite sports teams, or vacations taken. Doing so creates original games recalling fun times and making new ones.
Try playing Scattergories in teams or pairs for a fun time. Teams work particularly well for larger groups. Try pairs if your family has some younger children who could use some help and guidance. Once a child has played as a partner, they will learn the rules and build their confidence to a point where they can play alone.
You can also create variations in the lists. For example, any list can be narrowed by adding a limiter. For example, in the "Pets" category, you can limit "Breeds of Dogs" to "Breeds of Dogs That Are Brown."
As you play Scattergories, you will think of your own variations and categories. Make sure you write them down so that you can use them in the future and share them with others.
Category Lists for Scattergories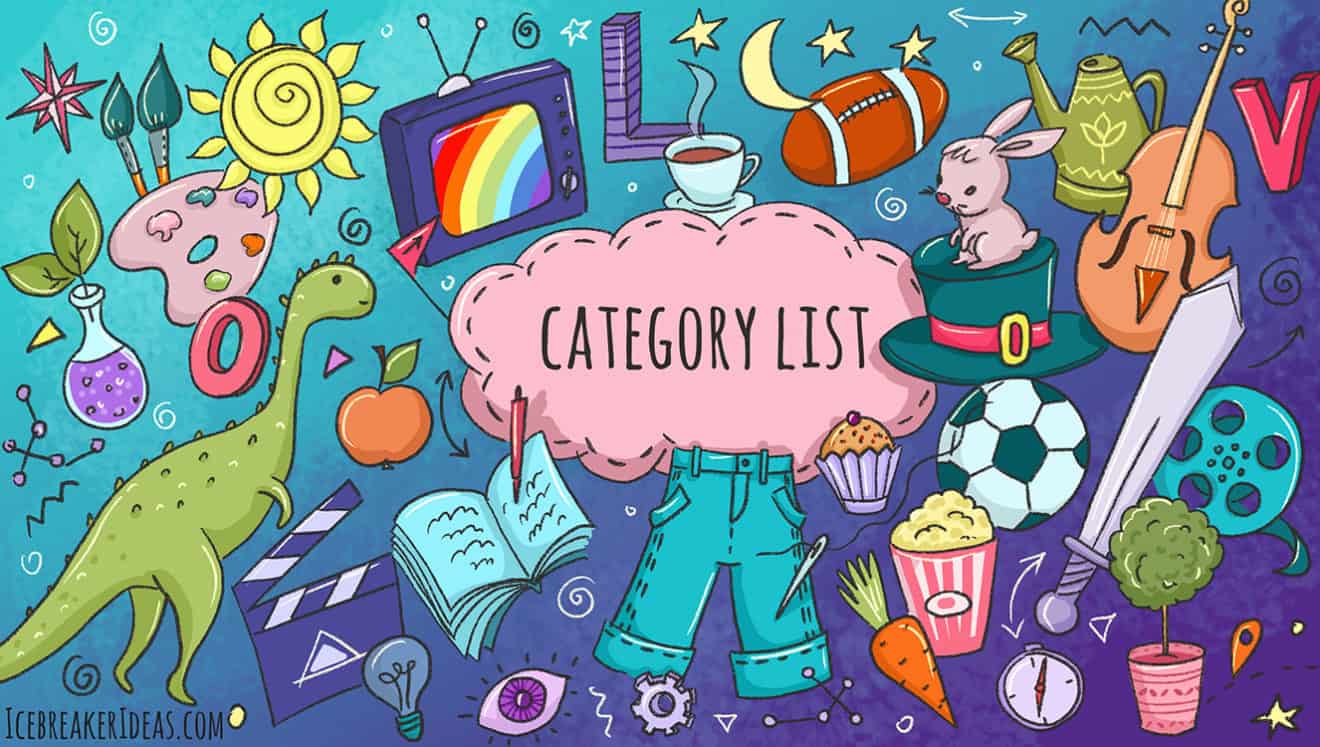 The number of categories one has available for playing Scattergories is almost unlimited. We have divided the categories in this article into alphabetically arranged lists to help you easily locate one applicable to the group with which you are playing. Some are easy and some more challenging. When choosing a category for a game, make sure you consider the ages of your players, as well as their knowledge and preferences.
Animals
There are many different kinds of animals, both domestic and wild, that live in a variety of habitats. Since types of animals are one of the first things young children learn to identify, younger players do well when these lists are used.
African Animals
Amphibians
Animal Homes
Animals That Are a Certain Color
Animals That Hop or Jump
Animals That Live Underground
Arctic Animals
Birds
Cat Breeds
Dangerous Animals
Dog Breeds
Farm Animals
Fast Animals
Fish
Mammals
Pets
Reptiles
Slow Animals
Art
Another category that takes some knowledge on the part of participants, only the Color category will work for very young children.
Colors
Famous Artists
Famous Paintings
Photography
Equipment
Terms
Types of Art (i.e. Fine, Abstract, etc.)
Careers
The jobs we educate and train ourselves for are a major part of our lives. Every job has terminology specifically applicable to it. Some of these list work very well for a business meeting where everyone has the same profession.
Medical Terms
Diseases
Medicine Names
Nursing Terms
Legal Terms
Office Items
Sales Terms
Teaching Terms
Areas of Study
Teaching Tasks
Clothing
The clothes we wear every day, for special occasions, and for the activities we participate in provide some excellent Scattergories lists. If you are playing with a group composed of those who wear the same clothing, such as all women or men, this category works especially well.
Clothing Worn by Cowboys
Men's Clothing
Women's Clothing
Baby Clothes
Styles of Shoes
Under Garments
Entertainment
People spend their downtime enjoying a variety of entertainment. These categories are sure to bring back memories of times spent viewing favorites.
Television
From its beginnings in the 1950s until today, television has affected almost every area of our lives, even more so with the advent of satellites and cable.
Cooking Shows
Music Programs
Nickelodeon
Prime Time TV
Reality TV
Sit Coms
Cartoon Characters
Classic Commercials
Movies
Drive-Ins, local cinemas, and 3D all provide windows into imaginative worlds filled with memorable characters. Choose a single movie everyone is familiar with or any of the following categories. Children excel in remembering their favorite Disney movies and characters.
Actors
Actresses
Blockbusters

Star Wars
The Hunger Games
Twilight

Classic Movies
Comedies
Disney Movies
Fantasy
Horror Movies
Love Stories
Science Fiction
Sports
Watching and participating in sports are activities enjoyed by many in their spare time. Test of knowledge of your favorite athletic pastime with the following.
Teams – Football, Basketball, Baseball, etc.
Terms – Golf, Tennis, etc.
Famous Players – Football, Basketball, Baseball, etc.
Sports Played Outside
Sports Played Inside
The Olympics
Water Sports
Food
Everyone loves to eat and has their favorite foods and beverages, so this category is fun one for every age and group composition. We have included many list choices, but you can probably think of others.
Beverages

Alcoholic Drinks
Beer Brands
Cold Drinks
Hot Drinks
Carbonated Drinks

Breakfast Foods
Candy
Chinese Food
Condiments
Dairy Products
Desserts
Fast Food

Fast Food Restaurant Names
Pizza Toppings

Gourmet Foods
Ice Cream Flavors
Italian Food
Junk Food
Meats
Mexican Food
Sandwiches
Spices
Gardening
For those who love to grow things, this category calls for remembering a variety of information. You may wish to limit some of the categories, such as "Types of Beans," "Squash Varieties," etc.
Flowers

Annual Flowers
Flowers by color
Perennial Flowers
Flowers That Are a Certain Color
Fragrant Flowers

Gardening Tasks
Growing Vegetables
Trees

Fruit Trees
Ornamental Trees

Vegetable Garden Plants
Geography
The world is a vast and fascinating place. Test your knowledge of where things are and what they are called with this challenging category.
African Countries
Asian Capital Cities
Canadian Provinces
Cold Places
Countries
Country Flags
Country Names Beginning With a Particular Letter
European Capital Cities
European Countries
Hot Places
Lakes
Mountain Ranges
Oceans
Rivers
Seas
South American Countries
United States Capitals
History
Another academic area that can prove challenging, those who remember historical events and dates have the advantage here.
Decades
Dictators
Politics

Elections
Presidents
First Ladies

Wars

American Civil War
Vietnam War
World War I and World War II

Airplanes
Countries Involved
Major Battles
Holidays and Celebrations
Every culture has special days set aside to celebrate people, events, and things. Create your own category for whatever country or culture you wish.
Celebrations Where Gifts Are Given
Holiday Songs
Holidays
Holiday Activities
Home Furnishings
Our homes are our refuge and express our personalities. We use color, wall coverings, and styles of furniture to create an environment in which we are comfortable. Of course, all of what we use work for game categories.
Bathroom Accessories
Floor Coverings
Furniture by Room (i.e. bedroom, kitchen, etc.)
Furniture in This Room
Furniture You Sit On (or At)
Kitchen Appliances
Wall Coverings
Window Coverings
Language
A vast number of Scattergories lists can be compiled from topics related to languages and their use. If your group took high school Spanish or French, choose a category such as French Nouns or Spanish Colors. See how much you remember from your high school language classes.
Parts of Speech
Contractions
Possessive Pronouns
Pronouns
Superlative Adjectives
Words That Can Be Used as Conjunctions
Punctuation
Words
Vocabulary and our use of words provide an interesting category for college students and adults.
Compound Nouns Formed With "Time"
Compound Nouns Formed With "Life"
Compound Nouns Formed With "Light" (Flashlight, Spotlight, etc.)
Words Beginning With a Particular Letter
Words Beginning With the Prefix "-Mis"
Words Beginning With the Prefix "-Un"
Words with Double Letters
Literature
Whether the last book you read was in school or you make a regular weekly library visit, try one of these categories to test your knowledge of the written word.
Authors
Famous Characters

Genres
Drama
Horror
Poetry
Romance
Westerns

Mythology
Reference Books
Mathematics
A category suitable for many different ages and group compositions is mathematics. Choose one of the simpler categories for very young children, one a bit difficult for middle and high schoolers, and a more challenging one for college students and adults.
Areas of Mathematics Study
Math Terms
Math Functions
Units of Measure

Metric Units
Units of Length
Units of Weight
Music
Whatever your favorite type of music, you probably know all of the songs and artists associated with the genre, including many of the words. If so, this category puts you ahead of the game.
Bands with One-word Names
Boy Bands
Children's Songs
Classical Music
Eighties Music
Female Singers
Folk Songs
Love Songs
Male Singers
Movie Theme Songs
Musical Instruments
Nineties Music
Nursery Rhymes
Rappers
Seventies Music
Sixties Music
Songs with a Name in the Title
T.V. Show Theme Songs
Theme Songs
Science
Some category lists take some expertise and this is especially true of those related to science. If you paid attention in your science classes you may enjoy this category; otherwise, beware.
Chemicals
Constellations
Bones of the Body
Disciplines – Biology, Zoology, Etc.
Gems
Insects
Internal Organs
Metals
Minerals
Periodic Table Elements
Types of Rocks
Weather

Terms Referring to rain, snow, etc.
Things Associated with a Particular Season of the Year
Technology
We live in a technological age, and this category covers all the latest gadgets. Don't forget to add additional lists as new "toys" become available.
Internet
iPhone Apps
Nintendo
Online Games
Video Games
Websites
"Things That . . ."
A fun category with many variations, "Things that . . ." requires some creative thinking. However, you may be surprised how well very young children do on some of these.
Are Cold
Are Flat (Coin, Paper, Floor, Etc.)
Are in a Medicine Cabinet
Are in a Park
Are in the Sky
Are Made of Glass
Are Made of Plastic
Are Made of Wood
Are Naturally Round
Are Naturally Yellow, Blue, Red, Etc.
Are Sticky
Are Square
Are Terrifying
Burn
Cost a Lot
Do Not Break When Dropped
Found at a Circus
Found in a Park
Have Spots
Have Stripes
Have Wheels
Have Wings
Jump or Bounce
Make You Itch
People Lose
Smell Bad
Smell Good
Tools
Many people use tools both at home and on their jobs. Tasks require specific tools for success. Listing tools for various jobs provides an interesting category.
Carpentry Tools
Cooking Utensils
Office Tools
Desk Accessories
Plumbing Tools
Mechanic's Tools
Toys and Games
An awesome category for kids, use these lists for a family game night and see who knows the most games and toys.
Action Figures
Board Games
Building Toys
Children's Games
Classic Toys
Dolls
Hobbies
Types of Toys
Transportation
Whether we are going to work, school, or traveling across the ocean, we need to use different methods of transportation to get there. Here is a category with something for everyone on the go.
Automobiles

Car parts
Models
Road Signs

Airlines
Cruises
Train Travel
Whichever category you choose for your game of Scattergories and whether you choose to purchase the game or play a homemade version, we guarantee our lists will provide unlimited fun for you, your family, and anyone else with whom you play. Play on!
Susan majored in English with a double minor in Humanities and Business at Arizona State University and earned a Master's degree in Educational Administration from Liberty University. She taught grades four through twelve in both public and private schools. Subjects included English, U.S. and world history and geography, math, earth and physical science, Bible, information technologies, and creative writing.
Susan has been freelance writing for over ten years, during which time she has written and edited books, newspaper articles, biographies, book reviews, guidelines, neighborhood descriptions for realtors, Power Point presentations, resumes, and numerous other projects.