One of the best ways for people to get to know each other is to play a game of People Bingo! It's easy to play, just give each person a Bingo card, and make sure everyone has a pencil or a pen.
The Bingo players move around the area trying to be the first to get their Bingo card filled up with names. If someone can't move easily, the players can go to that person.
It is always fun to get a prize or a treat for a job well done, whether you are the first to finish or the last. Everyone can be a winner playing People Bingo!
Some of the Bingo templetes are filled with ideas to use immediately, and other Bingo cards are left open, so that they may be filled in with ideas that fit the needs and ages of your players. Enjoy!
People Bingo Rules
Decide as a group before the game begins what a completed Bingo will be. A lot will depend on the number of players and the ages of the players.
Here are some examples of Bingos:

five boxes in a row – going across, down, or diagonally
an X diagonally through the Free space
a box shape – around the Free space making a square
a picture frame – all of the outside boxes filled in
blackout – with every box completed

Each player may only sign in one box on Bingo card
Players have to get other players to sign their Bingo card. Do not write another person's name for them on a card.
People Bingo Cards
First Day of School Bingo
Bonus Bingo Card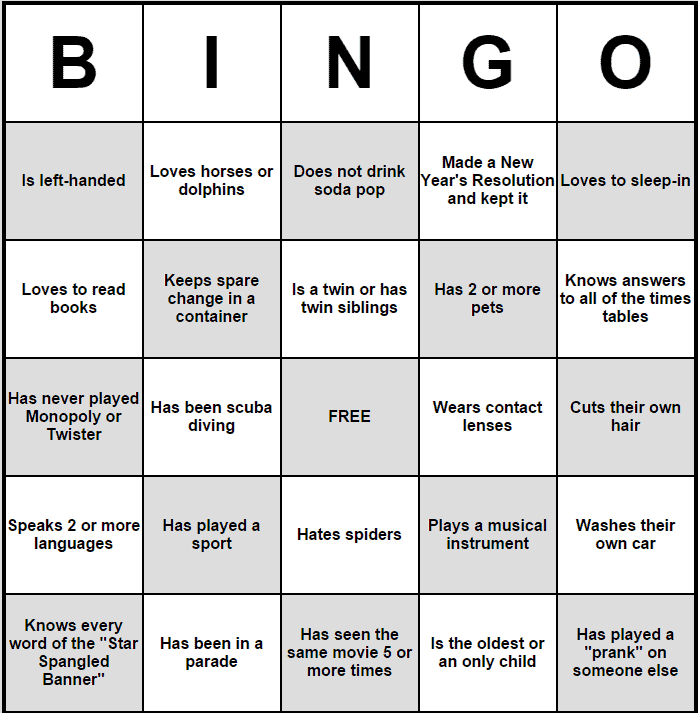 Susan majored in English with a double minor in Humanities and Business at Arizona State University and earned a Master's degree in Educational Administration from Liberty University. She taught grades four through twelve in both public and private schools. Subjects included English, U.S. and world history and geography, math, earth and physical science, Bible, information technologies, and creative writing.
Susan has been freelance writing for over ten years, during which time she has written and edited books, newspaper articles, biographies, book reviews, guidelines, neighborhood descriptions for realtors, Power Point presentations, resumes, and numerous other projects.